Archive for August, 2011
Monday, August 22nd, 2011
HOST: Montreal, Canada is seeing a trend many U.S. cities wish they were seeing – rising real estate prices. It's a mixed blessing, though – some parts of the city are going from affordable to pricey. That's a problem for many artists in one Montreal neighborhood, as Julia Scott reports.
JULIA SCOTT: More then a decade ago, when Montreal artists were searching for somewhere to work, they found a row of old textile factories in the city's Mile End district. It was a run-down industrial area. The rent was cheap and they filled the rooms with woodshops and printing studios.
Visual artist Pierre Przysiezniak has been working in the same building on Montreal's Avenue de Gaspé for a decade.
PIERRE PRZYSIEZNIAK: So what you have here is the Bulgarian-style architecture building, which is one of our ways of describing it. Designers, craftspeople and artists, when they heard about the types of rents we found, drifted, coalesced here.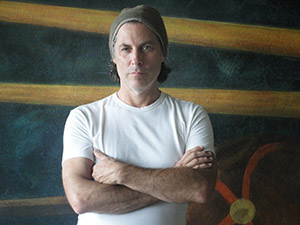 Visual artist Pierre Przysiezniak has been working in the same studio on Montreal's Avenue de Gaspé for a decade. (Photo credit: Julia Scott)
Just how cheap are those rents? Some artists pay as little as $300 a month for 700 square feet of studio space. Over time, these buildings have attracted more artists per square foot than anywhere else in Canada. And the inevitable happened. The once blighted neighborhood blossomed with hip cafés and cheap lunch spots. And in what has become a worldwide trend, developers took notice. Not too long ago, a corporation bought one building, which houses more than 300 art studios – for an eye-popping $37 million.
If this were a typical story about gentrification, the artists would probably be on their way out of the neighborhood by now. But they made a decision early on that if they had to move, they would stay here, in Mile End. And they've found an unexpected ally: the City of Montreal.
JEAN-ROBERT CHOQUET: What I can say is that we consider that we are concerned by what happens to the people of Mile End and that we are ready to do what we can to help them.
Jean-Robert Choquet directs the Culture and Heritage Division for the City of Montreal.
CHOQUET: If we identify that in Montreal we have a number of artists that is relatively more important than somewhere else, it becomes a strength for us and we have to act accordingly to be sure that these people feel well in Montreal – not only feel well, but feel that somebody cares.
The city's redevelopment agency has an unusual solution: it wants to purchase a building, or a group of smaller buildings, for the Mile End artists. Officials say it's the only way to hold onto the artists, who range from obscure, avant-garde performance artists to famous bands like Arcade Fire.
Louise Hodder directs a neighborhood-level city redevelopment agency. She says having artists in Mile End is nice… but the city's effort isn't about preserving the arts.
LOUISE HODDER: While we really like artists and we think they're great, it's not about artists, it's not about culture. It's about economics. What we're saying is that if we can maintain the artists, in those urban areas where they have invested in terms of having their workshops there, if we can maintain them there, we are going to create and maintain an attractive power to businesses.
Hodder proposes a financial model that would use 60% grant funding from federal, provincial and local governments for the new building. The rest would come from long-term loans and a low-interest mortgage, paid off with rent over time. A nonprofit would fill half the building with artists, half with corporate tenants.
HODDER: If we succeed in buying a building that is large enough for us to have some rents that are being paid at market value, and help us maintain some rents lower for artists, and in the end we're breaking even, we're happy.
If the deal is right, officials say $40 million might not be too much to invest. But they don't deny it's going to be complicated. First they need to find the money, and then buy a building without setting off another real estate frenzy. And they need to find investors willing to back them up.
For The World, I'm Julia Scott.
Tags: art studios, gentrification, Julia Scott, Mile End, Montreal, Pierre Przysiezniak, The World
Posted in Radio | No Comments »
© 2020 Julia Scott.