Posts Tagged 'Oakland'
Tuesday, June 2nd, 2020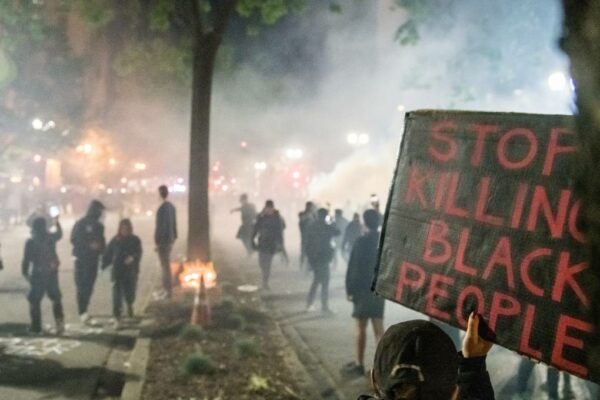 As demonstrations against police brutality roil the country for a second week, protesters across the Bay Area continue to put their bodies on the line, weighing the risk of injury or exposure to the coronavirus against continuing to tolerate the status quo.
The risk of personal harm now extends to inhaling tear gas, which four Bay Area cities have deployed multiple times since Friday — in Oakland, Walnut Creek, San Jose and Santa Rosa.
It's a combustible — and controversial — choice in light of the known respiratory complications of COVID-19, according to two experts who spoke with KQED.
"If somebody has COVID-19 and they get tear gassed, they're going to be coughing more. They're going to be spitting more. They're going to be shouting more in pain … so that's one risk," said Peter Chin-Hong, a professor and specialist in infectious diseases at the UCSF School of Medicine.
The other risk is that tear gas could degrade the lungs and make a protester more susceptible to coronavirus infection down the line, he added.
It's almost like you're getting an asthma attack," he said.
Chin-Hong published a strongly worded petition this week on behalf of fellow infectious disease, public health and medical professionals. It makes a point of affirming the ongoing demonstrations against systemic racism and police oppression, while offering pointed public health guidance to law enforcement and government officials trying to handle protests.
Among the pieces of advice: Stop using tear gas immediately. Also, stop detaining protesters in enclosed spaces like police vans and jail cells, which are likely to increase COVID-19 transmission.
Civil rights advocates are likewise concerned about the spread of the coronavirus in jails, following hundreds of arrests in the Bay Area since demonstrations began on Friday. In Alameda County, for example, some protesters were sent to Santa Rita Jail in Dublin.
"We have massive concerns for people getting exposed inside the jail who are protesting and getting booked inside," said Carey Lamprecht, a legal worker with the National Lawyers Guild.
Protesters who have been tear gassed may not be able to continue wearing their masks, increasing their risk of exposure to COVID-19, said Art Reingold, professor and head of epidemiology and biostatistics at UC Berkeley's School of Public Health.
"It's obviously a thorny conundrum. If you want to be out there and protest and stay safe — these are hard things to balance. If you're going to be there, be sure of wearing a mask," he said.
But don't continue to wear a tear-gassed, wet mask, Reingold said, since tear gas is already harmful at that point and the mask may no longer serve as protection.
"In general we think that when masks become wet, that they are not as good at preventing the spread of virus," he said.
Oakland City Council President Rebecca Kaplan has been sorting through the complaints her office has received about the conduct of police officers who tear gassed young protesters on Friday, Saturday and Monday nights. She strongly opposes the use of tear gas under the circumstances.
"They say the point is to try to protect the community from things getting out of hand. But tear gas does the opposite," Kaplan said. "When demonstrators are behaving peacefully, deploying a harsh munition like this can really hurt people, especially in a pandemic. It also pushes the crowd to places of greater danger."
Kaplan said she has asked for "clarity" about how police decided tear gas was justified, given Oakland's policy limiting its use.
KQED asked several cities to explain their use of tear gas or share their policy. An Oakland Police Department spokesperson said they would look into KQED's questions. A San Jose Police Department representative said the agency had no details to share "at this time." The San Francisco Police Department said its officers did not use tear gas over the weekend or on Monday night.
Tags: Black Lives Matter, COVID-19, Julia Scott, KQED, Oakland, Tear Gas
Posted in Feature, Uncategorized | No Comments »
© 2023 Julia Scott.