Posts Tagged 'Vallejo'
Thursday, June 4th, 2020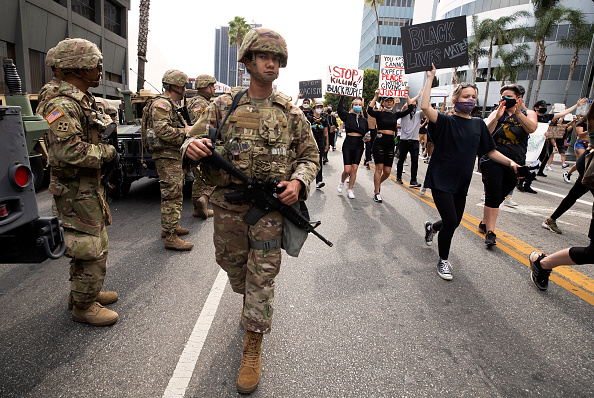 A deployment of 50 National Guard troops played a well-publicized role on the streets of Vallejo on Tuesday and Wednesday nights, patrolling to keep government property and critical infrastructure safe amid some reports of illegal activity and violence that took place alongside protests over the Minneapolis police killing of George Floyd.
"Our officers are exhausted, but they're resilient, and they're committed to safeguarding our city. But we needed the additional resources to safeguard many of the businesses that were severely damaged on Monday," said Vallejo Police Chief Shawny Williams at a press conference on Wednesday.
Even in extraordinary times, seeing an organized deployment of National Guard troops in the streets adds an element of surprise. In fact, the California National Guard has not been called out to quell a protest since 1992, when then-Gov. Pete Wilson deployed thousands of the guard in the racially charged aftermath of the Rodney King riots. The historical parallels are clear.
As of Wednesday evening, 3,899 National Guard personnel were activated to back up local law enforcement dealing with racial justice protests across the state, according to Lt. Col. Jonathan Shiroma, a spokesman with the California National Guard. Most were deployed in and around Los Angeles at the request of Mayor Eric Garcetti.
On Wednesday morning, the Solano County Sheriff's Office sent guard troops back to standby duty, but called them up again later in the day. Vacaville had 50 troops on hand Tuesday, but they were also released. And 50 soldiers had deployed to San Leandro but were turned around by local law enforcement and told they were not needed, according to Shiroma.
Nationally, more than 17,000 guard troops in 23 states and the District of Columbia have been deployed in cities that have seen some violence following the killing of George Floyd on May 25, according to numerous media reports.
Neither Police Nor Neutral Peacekeepers
The National Guard has had a meaningful presence in the Bay Area and across the state in recent weeks for a completely different reason: to help staff food banks and augment hospital staff amid the COVID-19 pandemic.
The California National Guard has been activated by the governor to deal with other crises as well, ranging from wildfires to earthquakes.
"You'll find that what separates us from the active forces is that our soldiers and airmen are part of your community. So whatever city we're deployed to right now, we have men and women who live in that specific city," Shiroma said.
That said, the National Guard are a branch of the U.S. military. When you join up, you are sent to basic training. You are armed with a service weapon. And some day, you may find yourself facing down a crowd of protesters.
So what is the National Guard empowered to do?
"There are totally different rules concerning using force that are in place for Guard soldiers when they are assigned to a mission like we're seeing right now," Shiroma said. "We do not have the authority to arrest citizens, but we're able to detain someone until we can turn over the individual to the proper law enforcement agency."
National Guard troops aren't police, but they aren't neutral peacekeepers either. They typically come under a "coordinated command structure" that serves the goals of the police or sheriff's department that requested their presence, according to Brian Ferguson, deputy director of communications for California's Office of Emergency Services.
That said, "in most cases, the Guard is not going to do front-line law enforcement. They'll be doing logistical support, moving things around in trucks," or securing a site while police work elsewhere, said Ferguson.
California has 4,500 enlisted National Guard troops, and the coronavirus pandemic has prompted a jump in applicants.
"It's something we see when a national crisis happens," said Shiroma.
Tags: Black Lives Matter, George Floyd, Julia Scott, KQED, National Guard, Racial Justice, Vallejo
Posted in Feature | Comments Off on National Guard Troops at Protests: What Does It Mean? What Can They Do?
© 2023 Julia Scott.