Posts Tagged 'KQED'
Thursday, June 4th, 2020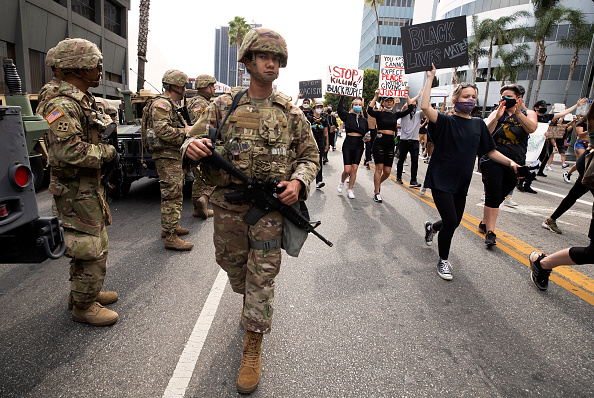 A deployment of 50 National Guard troops played a well-publicized role on the streets of Vallejo on Tuesday and Wednesday nights, patrolling to keep government property and critical infrastructure safe amid some reports of illegal activity and violence that took place alongside protests over the Minneapolis police killing of George Floyd.
"Our officers are exhausted, but they're resilient, and they're committed to safeguarding our city. But we needed the additional resources to safeguard many of the businesses that were severely damaged on Monday," said Vallejo Police Chief Shawny Williams at a press conference on Wednesday.
Even in extraordinary times, seeing an organized deployment of National Guard troops in the streets adds an element of surprise. In fact, the California National Guard has not been called out to quell a protest since 1992, when then-Gov. Pete Wilson deployed thousands of the guard in the racially charged aftermath of the Rodney King riots. The historical parallels are clear.
As of Wednesday evening, 3,899 National Guard personnel were activated to back up local law enforcement dealing with racial justice protests across the state, according to Lt. Col. Jonathan Shiroma, a spokesman with the California National Guard. Most were deployed in and around Los Angeles at the request of Mayor Eric Garcetti.
On Wednesday morning, the Solano County Sheriff's Office sent guard troops back to standby duty, but called them up again later in the day. Vacaville had 50 troops on hand Tuesday, but they were also released. And 50 soldiers had deployed to San Leandro but were turned around by local law enforcement and told they were not needed, according to Shiroma.
Nationally, more than 17,000 guard troops in 23 states and the District of Columbia have been deployed in cities that have seen some violence following the killing of George Floyd on May 25, according to numerous media reports.
Neither Police Nor Neutral Peacekeepers
The National Guard has had a meaningful presence in the Bay Area and across the state in recent weeks for a completely different reason: to help staff food banks and augment hospital staff amid the COVID-19 pandemic.
The California National Guard has been activated by the governor to deal with other crises as well, ranging from wildfires to earthquakes.
"You'll find that what separates us from the active forces is that our soldiers and airmen are part of your community. So whatever city we're deployed to right now, we have men and women who live in that specific city," Shiroma said.
That said, the National Guard are a branch of the U.S. military. When you join up, you are sent to basic training. You are armed with a service weapon. And some day, you may find yourself facing down a crowd of protesters.
So what is the National Guard empowered to do?
"There are totally different rules concerning using force that are in place for Guard soldiers when they are assigned to a mission like we're seeing right now," Shiroma said. "We do not have the authority to arrest citizens, but we're able to detain someone until we can turn over the individual to the proper law enforcement agency."
National Guard troops aren't police, but they aren't neutral peacekeepers either. They typically come under a "coordinated command structure" that serves the goals of the police or sheriff's department that requested their presence, according to Brian Ferguson, deputy director of communications for California's Office of Emergency Services.
That said, "in most cases, the Guard is not going to do front-line law enforcement. They'll be doing logistical support, moving things around in trucks," or securing a site while police work elsewhere, said Ferguson.
California has 4,500 enlisted National Guard troops, and the coronavirus pandemic has prompted a jump in applicants.
"It's something we see when a national crisis happens," said Shiroma.
Tags: Black Lives Matter, George Floyd, Julia Scott, KQED, National Guard, Racial Justice, Vallejo
Posted in Feature | Comments Off on National Guard Troops at Protests: What Does It Mean? What Can They Do?
Tuesday, June 2nd, 2020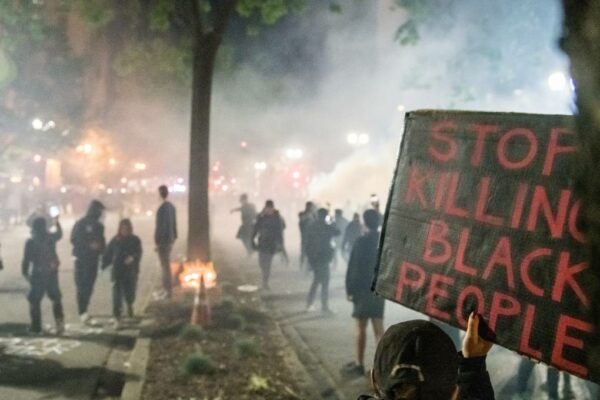 As demonstrations against police brutality roil the country for a second week, protesters across the Bay Area continue to put their bodies on the line, weighing the risk of injury or exposure to the coronavirus against continuing to tolerate the status quo.
The risk of personal harm now extends to inhaling tear gas, which four Bay Area cities have deployed multiple times since Friday 'ÄĒ in Oakland, Walnut Creek, San Jose and Santa Rosa.
It's a combustible 'ÄĒ and controversial 'ÄĒ choice in light of the known respiratory complications of COVID-19, according to two experts who spoke with KQED.
"If somebody has COVID-19 and they get tear gassed, they're going to be coughing more. They're going to be spitting more. They're going to be shouting more in pain … so that's one risk," said Peter Chin-Hong, a professor and specialist in infectious diseases at the UCSF School of Medicine.
The other risk is that tear gas could degrade the lungs and make a protester more susceptible to coronavirus infection down the line, he added.
It's almost like you're getting an asthma attack," he said.
Chin-Hong published a strongly worded petition this week on behalf of fellow infectious disease, public health and medical professionals. It makes a point of affirming the ongoing demonstrations against systemic racism and police oppression, while offering pointed public health guidance to law enforcement and government officials trying to handle protests.
Among the pieces of advice: Stop using tear gas immediately. Also, stop detaining protesters in enclosed spaces like police vans and jail cells, which are likely to increase COVID-19 transmission.
Civil rights advocates are likewise concerned about the spread of the coronavirus in jails, following hundreds of arrests in the Bay Area since demonstrations began on Friday. In Alameda County, for example, some protesters were sent to Santa Rita Jail in Dublin.
"We have massive concerns for people getting exposed inside the jail who are protesting and getting booked inside," said Carey Lamprecht, a legal worker with the National Lawyers Guild.
Protesters who have been tear gassed may not be able to continue wearing their masks, increasing their risk of exposure to COVID-19, said Art Reingold, professor and head of epidemiology and biostatistics at UC Berkeley's School of Public Health.
"It's obviously a thorny conundrum. If you want to be out there and protest and stay safe 'ÄĒ these are hard things to balance. If you're going to be there, be sure of wearing a mask," he said.
But don't continue to wear a tear-gassed, wet mask, Reingold said, since tear gas is already harmful at that point and the mask may no longer serve as protection.
"In general we think that when masks become wet, that they are not as good at preventing the spread of virus," he said.
Oakland City Council President Rebecca Kaplan has been sorting through the complaints her office has received about the conduct of police officers who tear gassed young protesters on Friday, Saturday and Monday nights. She strongly opposes the use of tear gas under the circumstances.
"They say the point is to try to protect the community from things getting out of hand. But tear gas does the opposite," Kaplan said. "When demonstrators are behaving peacefully, deploying a harsh munition like this can really hurt people, especially in a pandemic. It also pushes the crowd to places of greater danger."
Kaplan said she has asked for "clarity" about how police decided tear gas was justified, given Oakland's policy limiting its use.
KQED asked several cities to explain their use of tear gas or share their policy. An Oakland Police Department spokesperson said they would look into KQED's questions. A San Jose Police Department representative said the agency had no details to share "at this time." The San Francisco Police Department said its officers did not use tear gas over the weekend or on Monday night.
Tags: Black Lives Matter, COVID-19, Julia Scott, KQED, Oakland, Tear Gas
Posted in Feature, Uncategorized | No Comments »
Tuesday, March 31st, 2020
I have a confession. I don't know most of my neighbors. I don't even know the names of everyone on my floor. I live in a tall condo building in Oakland, with a towering view of Piedmont and the surrounding neighborhoods. It's the kind of building where you can nod to a neighbor for years, without thinking about the interaction.
No more. Because right now, almost all of us are home together. Thinking about, or trying not to think about, the virus. Our lives intersect in new ways. Our interactions will follow suit.
COVID-19 has transformed my world. My one-bedroom is now my office, tiny gym and portal to the friends I miss hugging and to my parents, who are holed up in the North Bay and haven't set foot outside since shelter-in-place orders took effect.
In recent days, I'Äôve struggled with my emotions and video chatted with my therapist. I'Äôve had good days when I am overwhelmed with gladness to be part of a team at KQED whose coverage of this pandemic, deemed an 'Äúessential service,'ÄĚ has become more essential than ever.
I'm not the only one in my building who's struggling to find our way in a new landscape with no view of the horizon. The coronavirus is an unspoken part of every interaction. And the fear is there, too. We fear getting each other sick, and we fear what might happen to us if we were to fall ill. My 119-unit building has about 180 residents. For the next few weeks or months, we'll almost all be living and working here in our little units, separated by a concrete wall and under one roof. I started wondering: How are we all coping so far?
Our 'ÄėLand-Based Cruise Ship'Äô
I put up a note on the bulletin board in the mail room, asking my neighbors to reach out and tell me their stories. The first one who did was Gina Belleci, who lives on the sixth floor. She and her girlfriend, Jessica Holt, have been sheltering together since Gina's startup sent everyone home. She now telecommutes from a small table wedged next to the kitchen, while Jessica works with her laptop propped up on a dresser in the bedroom.
Gina says some of her days are spent in 'Äúsilent panic'ÄĚ mode. Other times, she feels optimistic. Gina and Jessica take care of their neighbors. Lately they've been handing out toilet paper and grocery shopping for an elderly friend on the eighth floor, who really should not leave the building.
'ÄúI think we just really need to band together. And these small, tiny ways really add up,'ÄĚ said Gina. 'ÄĚIt's generosity breeds generosity. I feel really excited to be part of this building to see what happens here.'ÄĚ
Jessica is a freelance theater director, and she told me that her prospects have become extremely uncertain, very quickly. All of her upcoming theater productions have been canceled, and the same is true industry-wide.
'ÄúThis is all I've really practiced as a trade, as a craft, my entire life,'ÄĚ she told me. 'ÄúI'm not going to lie 'ÄĒ the other night, I sort of threw myself into a little heap. And I and I keep saying, well, we're going to get through this. There will come a time when we return to normal. But will we? Will we ever be able to return to normal? I don't know.'ÄĚ
They told me that they've made the difficult decision to leave. Gina's 74-year-old mother lives in Antioch and doesn't have anyone to take care of her. They worry that the longer they spend in a building with 180-odd people, the likelier they are to pick up the coronavirus and bring it back to Gina's mother.
'ÄúI either need to choose being with her, to be able to go get things for her just to keep her in the house, or we need to really commit to this land-based cruise ship we live on 'ÄĒ which is so big and has so many people coming in and out,'ÄĚ said Gina.
So they've packed their suitcases for a month and said goodbye to their neighbors.
She's right about the sanitation issue. Our building's maintenance man has gone home, and there is no cleaning regime, which I suspect is true of many large apartment buildings here in the Bay Area.
In a building like mine, where space is limited, it's nice to be able to open your door and have a conversation with someone you meet by the elevators or in the mailroom. But each of those touch points now could be vectors for infection. Elevator buttons. Door knobs. I've taken to wearing gloves just to go downstairs or when I'm in the laundry room. When people see you inside an elevator they're waiting for, they give a tight smile and wait for the next one. Even the mailroom has started to feel a little snug. People don't linger to enjoy those conversations anymore.
So it was a pleasure to receive a text from my neighbor Dina Mackin on the third floor. 'ÄúWant to meet up on the roof to see the sunset?'ÄĚ it read.
When I got there, Dina had a glass of ros√© in her hand and was standing in front of a darkening view of West Oakland and in the distance, the Golden Gate Bridge. 'ÄúThis is what I have to do every day to keep my sanity,'ÄĚ she said. 'ÄúThe beauty of just seeing something so simple that happens every single day, that marks the passing of time. You just appreciate it more and more. And this is the time to appreciate it.'ÄĚ
As she spoke, I realized that I hadn't been outside in two days. This was the first time I'd tasted fresh air. When days start to run together, watching the sunset is an important form of closure. Even better to watch it with a neighbor.
Dina agreed. 'ÄúThis is one of the few things we're still able to do,'ÄĚ she said.
On the Front Lines
Katie Stephenson, my neighbor on the second floor, cannot shelter in place because she is a second-year pediatrics resident at Kaiser Permanente Oakland Medical Center. I barely see her as she darts in and out to shower, sleep and drink some coffee before heading back out to the hospital for another 12-hour shift.
I spoke to her on an evening she had just tested negative for COVID-19. She had a post-allergy season cough so her doctor sent her to have a test. But she assumes that it's only a matter of time before she does get the coronavirus, so she's careful to limit her contacts within the building.
'ÄúMy mission is just to keep my germs confined to my little space and not let them get out,'ÄĚ she said. 'ÄúBut I also think that if I'm one of the people who gets COVID-19, that I would do fine 'ÄĒ most people my age, if we'Äôre healthy, we do fine. I think a lot of people in my residency program, myself included, are very likely to get it and are very likely to do fine.'ÄĚ
Katie has been on the pediatrics ward for the past three weeks. She sees children who have been admitted because their parents are afraid they might have COVID-19. All medical staff must wear personal protective equipment 'ÄĒ essentially hazmat suits 'ÄĒ and masks around the children, which is profoundly unsettling.
'ÄúThere are nurses wearing the suits, and there's multiple doctors coming in wearing the suits. It'Äôs scary,'ÄĚ she said. She tries to defuse the fear by making her young patients smile. 'ÄúI have some stickers that my mom sent for St. Patrick's Day. They're all green. And so I have been bringing in stickers and putting them on my suit. Or I'Äôll draw like a smiley face, to be a big yellow smiley-face person.'ÄĚ
Katie'Äôs supervisor has told her group that they'Äôre running a marathon, and so far they'Äôve only run half a mile. They need to remember to pace themselves. Luckily, Katie is an actual marathon runner 'ÄĒ she'Äôs done three of them 'ÄĒ so she knows when to push herself. Her freezer is stuffed with homemade dinners prepared by her mother 'ÄĒ a source of comfort at the end of another long day.
My neighbor Alexa Eurich is also running a marathon of sorts. Somehow, she's had to find a way to teach her combined classroom of kindergarten and first grade students from her apartment on the fourth floor. Eurich has taught at Aurora School in Oakland for 15 years. The school closed down so quickly that no one had time to grab enough teaching supplies for a month, let alone the rest of the school year.
'ÄúWhen you hear about teaching kindergarten remotely, you just have to laugh … because how is that even humanly possible?'ÄĚ she said. 'ÄúIt's been very hard not knowing, because I've felt competent at my job for a very long time.'ÄĚ
Alexa has 16 kids in her classroom. She manages to video chat with four of them each day, in addition to checking in regularly with teachers and parents. She's trying to keep up with the lessons her kids were learning two weeks ago, but she has to improvise with whatever books the students have around the house. They have to be trained to talk to her through a computer screen. It can be hard to connect.
'ÄúI know without a doubt that the best way we humans learn is through a relationship. And not being with them physically when they're at this developmental stage is very trying to the relationship,'ÄĚ she said.
It's also been trying for her. Because she is in remote meetings all day, her husband has to stay in the bedroom for hours at a time.
'ÄúI've been working from, like, six o'clock in the morning to about six o'clock at night,'ÄĚ she said. 'ÄúAnd I am still in love with teaching. I love my job. But I'm not in love with this job right now. I have to learn how to do it in a way that feels wrong to me.'ÄĚ
Staying Sane Inside Four Walls
I asked my neighbors what they are doing to stay sane amid deeply uncertain circumstances. My neighbor Guillaume Chartier and his husband Grant Eshoo have been baking lemon meringue pie and watching 'ÄúStar Trek: The Next Generation'ÄĚ after they have finished the day'Äôs work at their improvised desks in the living room. (Guillaume is an animator, and Grant works for Alameda County).
They chose to re-watch Star Trek for its nostalgia, but are finding that it holds surprising relevance to our present moment on Earth.
'ÄúThere was an episode where they were facing a lethal epidemic and they had to take measures to contain it,'ÄĚ said Guillaume. Of course, they succeeded 'ÄĒ thanks to Dr. Beverly Crusher.
'ÄúIt displays a very earnest, optimistic outlook on humankind. And we're just the kind of nerds that we enjoy watching it together,'ÄĚ he added with a laugh. 'ÄúIt's all imaginary settings, but it touches on very current real human conditions and phenomena.'ÄĚ
My second-floor neighbor Judith Rosenberg is in her mid-70s. She reckons she now spends 90% of her time indoors, except for a brisk daily walk or to pick up groceries. She escapes into serial mysteries and spy novels by authors like John le Carr√© and Charles Cumming. She also emails with her friends, which alleviates some of the 'Äúoverriding sadness'ÄĚ she has started to feel.
'ÄúI have felt depression in my life. I'Äôve felt all sorts of emotions, but I don't get sad very much. This is a deep sadness,'ÄĚ she said.
Her other great comfort is music. Judy has a gleaming concert piano in her apartment. Her specialty is musical improvisation.
'ÄúI feel a certain life force when I'Äôm playing,'ÄĚ she told me. 'ÄúWhen I sit down to play, there's something about that experience that makes me feel more alive in a way. And it is a great gift.'ÄĚ
My third-floor neighbor Ernesto Victoria is also in his 70s. He isn't much of a worrier, but he did get concerned a few weeks ago when he developed a cough. His doctor assessed his symptoms and ruled out the coronavirus. Still, the cough has been hard to shake.
'ÄúI get a little scared from time to time, I have to be honest with you,'ÄĚ he said. 'ÄúThe other day, the symptoms were really bothering me. And I just got really emotional.'ÄĚ
He pulled out his computer and started writing memories of his childhood in Mexico and of growing up with his seven siblings.
'ÄúMaybe there was this thought, you know, of, 'If I die, I want my daughters to see this,'Äô 'ÄĚ he laughed. 'ÄúI was just feeling sentimental and emotional.'ÄĚ
Ernesto loves swimming, biking and hiking. With his pool closed and his favorite biking and hiking trails off limits, his daily pleasures include video chats with faraway friends.
'ÄúIt is so good to see a face and to talk. It's the joy of talking with somebody after being sequestered for so long,'ÄĚ he said.
A lot of nice little things have happened in my building over the past two weeks. I was happy when Ernesto accepted my offer to shop for him sometime soon. Someone on the third floor left a message on the bulletin board offering to help anyone who needs it. Another neighbor organized the entire seventh floor into a group text, so that when someone's leaving for a grocery run, they can take requests and minimize the number of trips from the building.
I know this virus will escalate in the next few weeks. The news will get scarier. But I've met more neighbors in the last week than I've gotten to know in the past five years. I already feel better knowing I have so many people to talk to who are facing the same situation, the same questions, as I am. We may all be behind our doors for now, but we really are in this together.
Tags: Coronavirus, COVID-19, Julia Scott, KQED, shelter-in-place, The California Report
Posted in Podcast and Radio Work | No Comments »
Friday, January 26th, 2018
Expressing Masculinity: It's Complicated
Deep down, men and women have more in common than they differ — like 22 out of 23 pairs of chromosomes. But¬†there's one thing men have more of: testosterone. Conservative commentator Andrew Sullivan recently argued that higher levels of testosterone underscore natural sexual differences.
But when issues of gender identity, sexuality and personal choices are added to the mix, the question of expressing masculinities becomes even more complicated.
Julia Scott talked to two people who are exploring their manhood today with a little help from testosterone.
One is Eric Trefelner, a physician living on Montara, Calif. who recently experimented with injecting testosterone to bulk up for his workouts. But along the way, he started experiencing sensations he never expected to feel.
"I had more energy. I felt more powerful. I felt more sexual. I felt more ability to take risks," Trefelner said.
He'Äôd always identified as a man, but he suddenly felt a sense of communion with men at the gym — a form of acceptance he'Äôd missed out on as a kid.
"I used to always have these dreams where I was near men, they were in a group distant from me. I would feel so sad and wake up crying because I was separated from the world of men. … And all of a sudden I was feeling like, this is what it means to be a man!"
Was Trefelner discovering something that had lived inside him all along? Or was it a new reality? If was just the hormones, would he lose access to the special feeling if he stopped injecting?
Medical science had a specific answer to this question when testosterone was synthesized in 1935 and marketed as a male-enhancing sex hormone for straight men.
Meanwhile, gay men were made to take it to reverse their so-called "endocrine disturbance," a completely made-up idea that if they took a "manly" hormone they would be less turned on by men (Though doctors noticed pretty quickly that it actually tended to enhance their attraction to other men).
So not only can you be a man without feeling like one, you can feel like a man without beginning life as one.
Addison Beaux, a writer who lives in Palo Alto, said that even as a 5-year-old, he identified as a boy and asked everyone to call him Bob.
But it wasn't until he turned 40 that Beaux decided to make a physical, surgical transition to a male appearance. But taking testosterone was a less obvious decision, and Beaux gave it a lot of thought before deciding to do it. That's because, unlike Trefelner, he wasn'Äôt shocked to feel like a man. He never perceived himself as anything but.
"As far back as I can remember, I've always been masculine more from the inside, so I've always felt that way and I still feel that way. Hormones do not necessarily make the man."
The hormones were just the finishing touch. Beaux'Äôs gender transition has taken a lifetime — and it'Äôs still in process.
This story was part of a series on KQED's The California Report, Beyond #MeToo: Sex, Abuse and Power Through a California Lens .
Tags: #MeToo, KQED, The California Report
Posted in Podcast and Radio Work, Uncategorized | No Comments »
Wednesday, January 24th, 2018
Coaching Boys Into Men
When is the right time to start teaching young boys about consent, boundaries and respect toward women?
A nationwide program called Coaching Boys Into Men trains school coaches to work with boys as young as 11, who are on their school's athletic teams. Boys trust their coaches, and the conversations that ensue are designed to plant seeds that will help prevent abuse — and give young men the tools to speak up when they see something that's not right.
Student athletes are often the leaders at their schools, and they can set the tone for the other students.
At Petaluma Junior High School, former student Danny Marzo and Athletic Director Zach Dee told us about how the program has led to changes on a personal level in the school culture overall.
This story was part of a series on KQED's The California Report, Beyond #MeToo: Sex, Abuse and Power Through a California Lens .
Tags: #MeToo, Julia Scott, KQED, The California Report
Posted in Podcast and Radio Work, Uncategorized | No Comments »
Thursday, April 20th, 2017
If bagels are a New York thing, San Francisco definitely has sourdough. And probably no one has convinced more people that our sourdough is unique than Boudin Bakery, where tourists line up at Fisherman's Wharf for a taste of that moist-tangy, fogbound delight.
Bay Area native (and KQED staffer) Peter Cavagnaro has been eating local sourdough all his life. It'Äôs his favorite bread. And that got him wondering about something. He asked KQED's Bay Curious'Ķ.
'ÄúWhat makes San Francisco sourdough so unique?'ÄĚ
Here at KQED, we've always heard there's something in the water or the air that makes our sourdough special. But is that really true?
It turns out that this is as much a science question as it is about the history and local mythology of our 'Äúauthentic'ÄĚ local sourdough. By the time I had the answer, I also had 2 pounds of smelly homemade sourdough starter fermenting at home, and the results of a lab test that described the microbes living in it.
Taste the Microbes
To understand what makes our bread taste the way it does, you need to know how bread gets started. My investigation began in the fermentation room at Semifreddi's bakery in Alameda, one of the best-known local producers of sourdough, along with Acme Bread Company and Tartine Bakery.
The fermentation room is the inner sanctum of the bakery. It's a very cold, stainless-steel vault where 300 yellow buckets brim with slow-bubbling beige goop: future sourdough. I stood there, shivering in a hairnet, with co-owner Mike Rose and head baker John Tredgold.
Rose is a soft-spoken man who talks about sourdough with wonderment, as if it'Äôs alive 'ÄĒ which it is, with millions of microbes.
'ÄúCan you hear it? It'Äôs hungry,'ÄĚ Rose said. 'ÄúIt will be fed later today. It gets fed once a day. Equal parts flour and water.'ÄĚ
Before sourdough gets baked, it has to be grown. Born as a primordial glop, aptly called starter. All it needs to grow, as Rose said, is flour and water. And time. That's it. If you add anything else, it's not real sourdough. Eventually, the sugars in the flour start to break down, and fermentation happens on its own.
Tredgold handed me a plastic spoon and pointed me to a bucket. I could see bubbles rising to the surface of the bucket 'ÄĒ a sure sign of microbial activity. The starter tasted like very sour yogurt to me, but Tredgold treated the experience like tasting a fine wine, smelling and savoring.
'ÄúThis is more like creme fraiche,'ÄĚ he said. 'ÄúIt makes you salivate, it makes you excited to eat more.'ÄĚ
Flour, Water, Temperature, Time
Semifreddi's produces 9,500 loaves of sourdough each day. But no two loaves taste exactly alike. And that's because the starter is alive with millions of wild yeast cells and naturally occurring bacteria. The yeast makes the bread rise. And the bacteria create the acids that make the bread sour.
The flavors vary from day to day, and batch to batch. Sourdough is one of the most ancient breads, dating back at least 5,000 years. It's reasonably easy to create a starter from scratch, but tricky to master the triple arts of crust, crumb and flavor when baking. So much depends on capturing enough wild yeast to make the bread light and airy. (Adding commercial yeast is not a permitted technique at the baking stage if the goal is authentic, old-fashioned sourdough).
'ÄúWe try to control it by temperature and time. And our hands. It'Äôs never fully totally under control, because we'Äôre dealing with natural organisms,'ÄĚ said Rose. 'ÄúI love it,'ÄĚ he added with a grin.
Rose was so passionate that I decided to try growing my own sourdough starter at home (more on that below).
The Boudin Lore
A little voice nagged at me, though. Anyone can make sourdough, but would it be authentic if it wasn't born in San Francisco? (I live in Oakland).
No one has convinced more people about the unique qualities of San Francisco sourdough than Boudin, which says it's been selling the same loaf of bread for 168 years. According to the Boudin Bakery museum at Fisherman's Wharf, the company's mother dough follows an unbroken line back to the Gold Rush in 1849. Louise Boudin even saved the starter from a burning building in the 1906 earthquake.
A museum docent told me the starter is so special and irreplaceable that the Boudin mothership sends its retail stores fresh starter every 23 days. Without it, they say the sourdough those stores produce would stop tasting like San Francisco sourdough and start tasting like San Diego or Sacramento sourdough.
Why? Well, according to the museum, Boudin bread owes its special flavor to a strain of bacteria that thrives only in San Francisco's climate. Scientists identified it here in 1970, so they named it Lactobacillus sanfranciscensis.
 
Not That Unique, Actually
It's a great story. Too bad it's not quite true.
Scientists did identify Lactobacillus sanfranciscensis here. But recent studies have found it in up to 90 percent of countries where sourdough is produced. So from a biological standpoint, San Francisco sourdough is not all that distinctive.
'ÄúIt'Äôs something that everyone thinks is unique to San Francisco and that is not true at all,'ÄĚ said Ben Wolfe, a microbiologist at Tufts University in Boston. His lab studies fermentation full time 'Ķ including the microbes you find in sourdough.
So, case closed? Not quite.
Science is still learning about the lactic acid bacteria (like L. sanfranciscensis) that give sourdough its main sour flavor. Other fermented foods have lactic acids, too, like miso, yogurt and kimchi.
But scientists don't know where they come from. Or how they get into your sourdough starter when you make it in your kitchen.
One explanation is that the bacteria could be in the flour to begin with. So when you go to the store and buy a bag of flour, it's not sterile. They could also be on your skin or floating around your kitchen, but Wolfe says those are less likely to become the dominant bacteria in your starter.
'ÄúThis is one of the big questions we'Äôre trying to answer in our story of American sourdough: Where are the lactic acid bacteria coming from?'ÄĚ said Wolfe.
The Sourdough Project
There's never been a large-scale study in home kitchens to really identify the sources of bacteria at home.
Until now.
Wolfe'Äôs lab has partnered with the Rob Dunn Lab at North Carolina State University on the Sourdough Project, the first comprehensive effort to test the DNA of sourdough starters across America 'ÄĒ and understand the evolutionary biology that underlies the differences among starters.
The Sourdough Project is soliciting hundreds of sourdough starter samples from amateur and professional bread bakers across the country. (To participate in this public science project, get started by filling out this questionnaire).
Scientists will analyze samples to answer the baseline question: How variable are the microbes from region to region? And how much variability can be attributed to the grain of the bread, versus the air, the water or the humans involved?
There are so many factors. Wolfe ticks them off.
'ÄúIt could be the time that people ferment their breads. It could be the temperature. It could be a special set of recipes used in San Francisco than in other places.'ÄĚ
When I told him I was growing my own sourdough starter, he offered to analyze it.
So while science may yet discover something special is lurking in our sourdough, Wolfe isn't holding his breath.
Not even the bakers at Semifreddi's, a company that has been in a position to benefit from the reputation of local sourdough, embrace the cachet.
Semifreddi's head baker Tredgold says it's pure marketing.
'ÄúIt sells the city. It'Äôs one of the things the city'Äôs known for. The bridge, the bay, the sourdough.'ÄĚ
And Rose, the co-owner of the bakery, added: 'ÄúIf we take our local starter and bake with it in Los Angeles, I think it will taste very similar to what we'Äôre making here,'ÄĚ he said.
Blasphemy! But possibly … true.
My Kitchen Sourdough Experiment: Results
My own sourdough experiment lasted more than a month. I used King Arthur whole wheat flour and kept my mixture on the kitchen counter. As it grew, it smelled distressingly like vomit before it mellowed. At one point it almost spilled out of the Tupperware I'd been keeping it in.
As my starter matured, it needed to be fed twice a day on a regular schedule. I raced home from work to give it more flour and water, spoke to it, and pampered it with field trips out to the balcony to give it some exposure to the Oakland atmosphere. (In spite of what I learned about the uncertainty of the science of microbes in sourdough, I still pictured my starter capturing beneficial wild yeast and bacteria from the atmosphere.)
I don't have pets or children, so I took photos of my starter's regular maturity and forced my friends to admire them.
But the most important question was: How did it taste? I baked two little loaves and brought them into the KQED newsroom to get some brutally honest feedback from fellow reporters.
Being a first-time baker, you can imagine how this went. The loaves were so dense they had almost no air pockets. They weighed at least 3 pounds and were nearly rock-hard. My colleagues at KQED charitably praised the taste, but it was clear something had gone wrong in the baking process … or with the starter itself.
A few weeks later, I got my sourdough DNA results back from Ben Wolfe's Tufts lab. My starter had two bacterial species: Lactobacillus brevis and Lactobacillus plantarum; and one yeast species: Wickerhamomyces anomalus. All of which are very commonly found in sourdough starters made around the world, according to Wolfe. It's also common to have no more than a few species of yeast and bacteria in any given starter.
But that one bacterium once believed to make our bread so special 'ÄĒ Lactobacillus sanfranciscensis? My bread didn'Äôt have any. Would things have gone differently if it had shown up? I may never know.
Tags: Bacteria, Bay Curious, Boudin Bakery, Food, Julia Scott, KQED, lactobacillus sanfranciscensis, microbiome, Semifreddi's, sourdough
Posted in Podcast and Radio Work | No Comments »
© 2023 Julia Scott.